This is the first year in a while that I have not had a hand in facilitating a charter school lottery. While I'm excited about taking my dog for a long walk and relaxing with my husband instead of ramping up for my busiest week of the year, it feels a little bittersweet.
This week is a very big deal for families across Northwest Arkansas that are hopeful for their student to gain admittance a charter school. There is a sense of something remarkable hanging around, and starting this morning, some families will see their dreams come true. Other families will face a tough decision, and others still, will begin the new daily habit of obsessively checking their preferred school's wait lists. I've answered many questions regarding charter school admissions over the years, and here are my suggestions for navigating the lottery process:
Don't lose your seat trying to figure out whether or not to accept it. If you've ever looked at a hormonal teenager, nervous about being displaced from the friends they've grown up with, and told them that they'd be attending a new school, you'll likely understand the sticky and somewhat nerve-wracking position many families will face this week. There are many things to consider when making the right choice for your student. Discussing options together is the most important part of making an informed decision. Most charter schools do have a deadline for accepting a seat, however, so its important to go ahead and accept your student's seat if you believe there is a chance they will want to attend!
Think of it this way: you can always change your mind and decline a seat after accepting it if you decide that a switch is not the right decision, but once you decline that seat, it will be offered to another student and will no longer be available for your student.
It is also important to remember that every charter school has different lottery processes and policies. It is always best to review each school's policies so that you know what to expect. This is also true for notifications and acceptance of seats– if you're in the running for a certain school, know when and where they will post their lottery results and how much time you have to accept your student's seat.
Patience & Grace. One of the most hectic parts of any charter school's year is lottery season. From walking families through understanding lottery processes, to tracking data, notifying students of acceptance, to processing enrollment… admissions staff is wearing all of the hats starting this week, and their day-to-day workload often gets even more demanding after the drawing!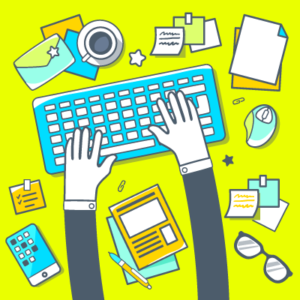 Charter schools typically receive less funding than traditional public schools, and our Northwest Arkansas charter schools are no exception. This usually means, instead of a robust team of people working cooperatively on admissions, you usually have a small team that handles the entire process from application to enrollment. This, of course, requires long hours, a calm heart, and a substantial amount of coffee.
Following the drawing, admissions staff will work diligently to notify families of results. While all schools use email and phone notifications to reach families, some also post their results online. This process can be time consuming, so patience is essential when inquiring about your student's status, but also please pay close attentions to deadlines!
Can't decide whether or not to accept your seat? Reach out to other families in the school, or ask to speak with parents of current students to gain perspective about the school. Sign your student up for a day to "shadow" a current student so that they can experience school culture and get a feel for what their day would hold. Many families say that shadowing another student for a day helped them make a decision when it came time to accept or decline their student's seat.
Enjoy! This week is a big deal for many families. From the excitement of being accepted to a new school to the anxiety of being pretty far down on the wait list, this is a week of big emotions throughout our area.
---
The Arkansas Quality Charter Schools Act of 2013 states:
If there are still more applications for admissions than the open-enrollment public charter school is able to accept after the completion of the random, anonymous student selection method, then the open-enrollment public charter school shall place the applicants on a waiting list for admission. The waiting list is valid until the next time the open-enrollment public charter school is required to conduct a random, anonymous student selection.
These four Northwest Arkansas Charter Schools will be holding lottery drawings beginning this week to determine enrollment for the 2018-2019 school year:

Arkansas Arts Academy
Friday, March 30, 2018
LEARN MORE

Haas Hall Academy
Tuesday, February 20, 2018 | 6PM
LEARN MORE

Ozark Montessori Academy
Tuesday, February 20, 201810 | 10AM
LEARN MORE

NWA Classical Academy
Thursday, February 22, 2018 | 6PM
---
My most sincere wishes of good luck to all the families participating this week, and godspeed to the administrative and admissions staff facilitating drawings this year!


Heather Holaway
Executive Director
NWA School Choice
SaveSave
SaveSave
SaveSave